→ See you next year for Blacktober 2022!
---
✦ Blacktober ✦
For Black creatives, by Black creatives.
#Blacktober is an October month-long exclusive event where Black and Mixed Black creators (regardless of their pigment) are celebrated and uplifted with their creative skill of choice. Be it visual art, redraws, cosplay, writing, streaming, and more! A prompt list is provided to go off of, but anyone can make their own list. The event is strictly for Black and Mixed Black creators.

Have fun being your unapologetically Black selves!
This event is partnerly organized by Céli, Cel and the Black Card Members Community. Graphics by Apple.
✦ Prompt list ✦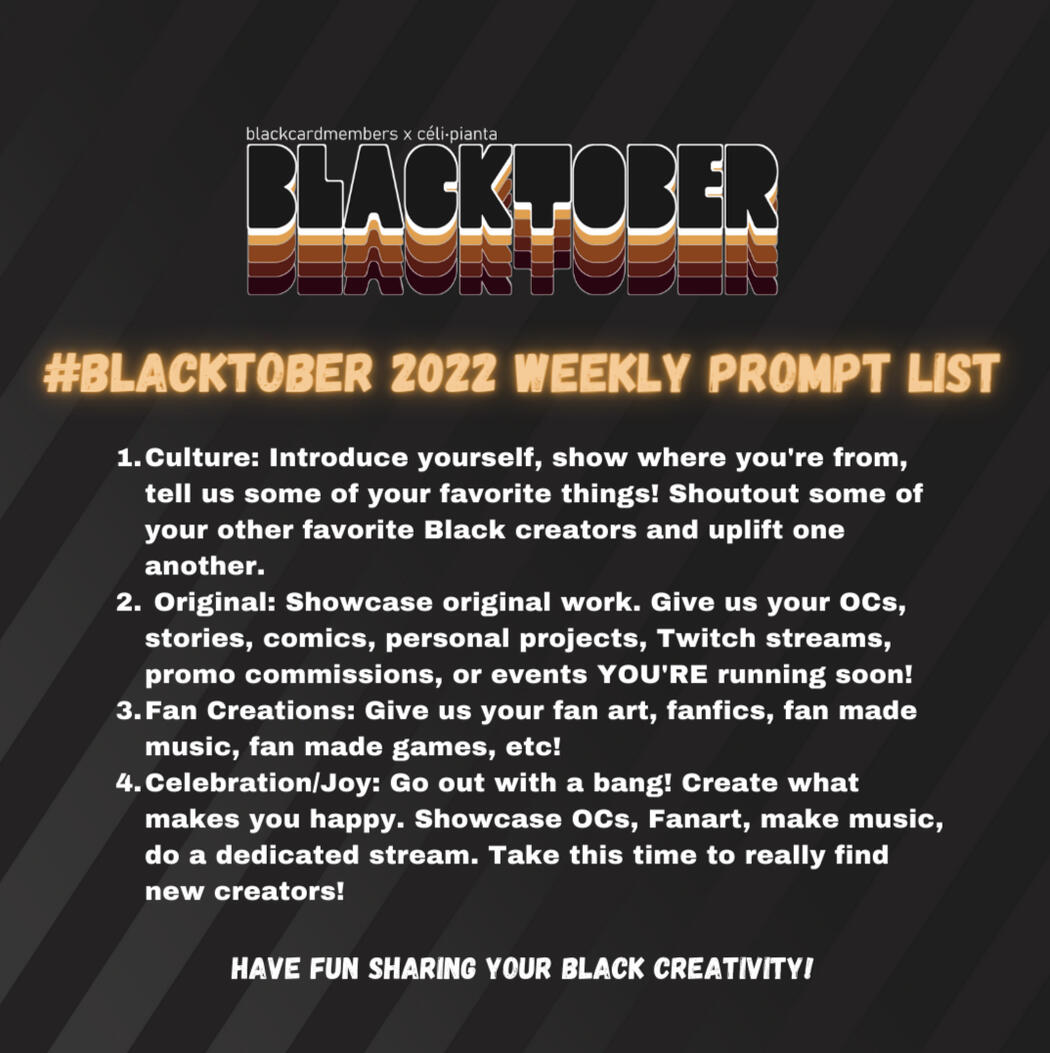 Greetings

Black Joy

Treats

Home

Love

Grow

Power

Hobby

Self-Care

Memory
Self Insert

Magical

Fantasy

Colorful

Canon Black Character

Fashion

Bad-Ass

Idol

Original Character

Guardian
Villain

Mythology

Dreams

Sunshine

Future

Luxury

Hero

Hairstyle

Throwback

Monster

Creepy
This list is created as a source of inspiration. Feel free to join the challenge or create your own prompts. We can't wait to see what you come up with!
✦ FAQ ✦
✦ Can I participate if in Blacktober if I'm white or a nonblack POC?
This event is to celebrate Black and Mixed Black people only. However, we encourage you to share, uplift, and support the works of Black creators and protect them from the possible backlash they might receive. Don't feed the trolls, block/report them, and encourage others to do the same.

✦ Why Blacktober?
In response to the creator of Inktober plagiarizing his art book from Black artist Alphonso Dunn and the constant harassment of Black cosplayers and artists for re-imagining their favorite characters as Black in media where we are underrepresented, we teamed up and created #Blacktober in 2020! We felt like it was time to celebrate ourselves and create a positive and empowering space for Black creatives.

✦ Can I draw my OCs?
Blacktober has always been for fanart and original content. You are free to create whatever you want. If you want to support original content by Black creators, check out the participating Black creatives in the tag who are often already creating Black OCs all year round!

✦ Can I participate in Blacktober using [x] medium?
Any medium and tools that you feel comfortable working with are fine! This event is for creatives of any kind, be it cosplayers, streamers, writers, visual artists, and more.

✦ Do I have to follow the Blacktober prompt list?
No, you do not need to follow the prompt list, the list is meant to inspire. You are free to use your own Black OCs, canon Black characters, or reimagine your favorite characters as Black. Feel free to join the challenge using this list and/or making your own.

✦ Do I need to participate daily?
Nope! We encourage you to take care, prepare in advance and take breaks, so don't feel the need to overwork yourself. We want you to have fun in the safest way possible.

✦ Can I repost older artwork?
Absolutely!